JAR TEA , BSTI Certified Premium Quality food grade Black Tea 100% Pure Natural Taste. JAR TEA is one of the top valued teas in the Chittagong tea auction. 
You can choose JAR TEA from diverse flavors including Lemongrass, Ginger etc. The black tea is available in several flavors as Black Tea, Premium Tea, Clone Tea, Gold Tea etc.
JAR TEA offers a unique garden fresh taste with organic flavor and nice color. The blend is produced from the finest tea leaves that are carefully picked from the finest tea gardens.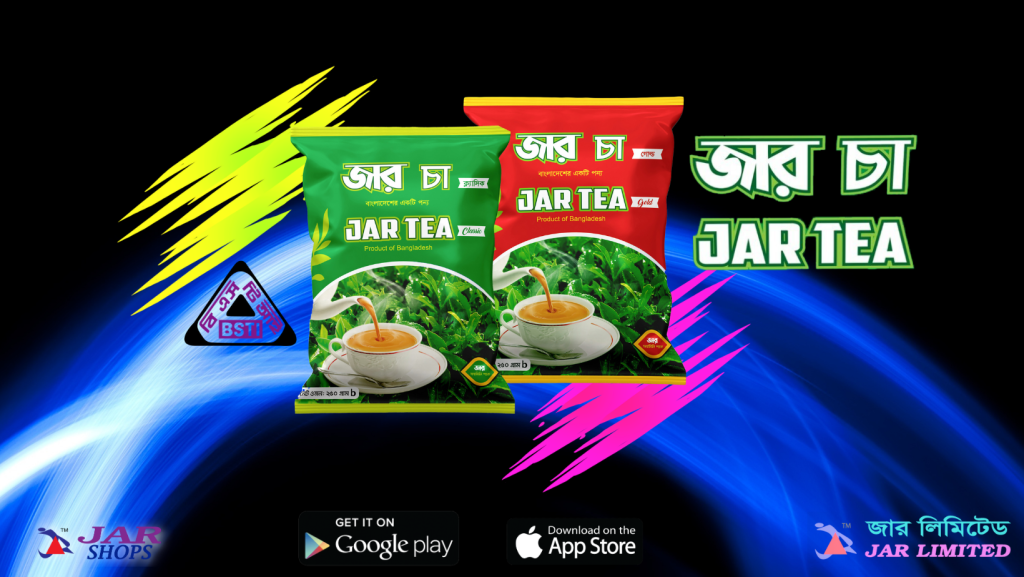 Brand: JAR TEA জার চা
Product Type : Black Tea
Processing Type : Fresh
Style : Loose Tea
Grade : Premium
Weight (kg): 500 gm, 200 gm, 100 gm, 50 KG Bag
Specialty : Health Tea
Place of Origin: Bangladesh
Origin of Tea Leaf : Bangladesh
Material : Fresh Tea Leaf
Feature: 100% Natural & High Quality
Flavor : Original Fresh Black Tea Flavor
Certification : BSTI
Storage Instructions: Keep Away From Direct Sunlight, Store In Dry Place
HISTORY OF TEA PRODUCTION IN BANGLADESH
As a vital tea producing country, Bangladesh has acquired the position of the world's 10th largest tea grower. Bangladesh is an important tea-producing country. It is the 10th largest tea producer in the world. Its tea industry dates back to British rule, when the East India Company initiated the tea trade in the hills of the Sylhet region. In addition to that, tea cultivation was introduced to Greater Chittagong in 1840.
Currently, Bangladesh has 167 commercial tea production estates. The world's many largest working tea plantations are available here. The tea industry of Bangladesh accounts for about 3% of global tea production.
Associate Member of Tea Traders Association of Bangladesh